What is the ultimate group destination that isn't far away but is a world apart? The most stunning vistas, winding trails, vibrant natural beauty, colorful small towns, hospitable lodging, and irresistible dining West Virginia offers await your group in the New River Gorge area. Known for some of America's best whitewater rafting, the New River Gorge never disappointed with Rapids ranging from gently flowing natural flows for those simply seeking relaxation to wild class 5 Rapids that will quench the greatest thirst for adrenaline.
Despite the name, the New River is one of the oldest rivers in the world with a rich history as a natural corridor for wildlife. There's so much to see, so stay a while, grab some binoculars, follow a trail, cast a line, or saddle up.
The New River Gorge area is a four-season destination and with winter come exciting downhill skiing, snowboarding, and snow tubing. When it's time to recharge, take in the scenery from the comfort of a mountain resort or unwind in a cozy cabin, delve deep into the region's fascinating history through group-friendly museums and exhibits that tell the stories of its involvement in the civil war and coal industry.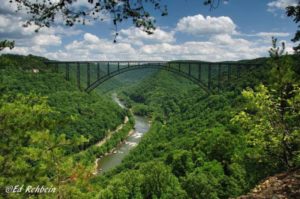 West Virginia doesn't just take pride in its history but in its artists as well. Discover the work of local craftspeople at Tamarack, the best of West Virginia in Beckley. It's the perfect place for your group to take a break, soak in some culture, find the perfect gift, and savor Appalachian cuisine. You'll find some of the best small towns anywhere here. In fact, Fayetteville was named one of America's coolest small towns by Frommer's budget travel and for good reason. Shop after shop, mouth-watering dining options, and lots of friendly folks make it a perennial favorite.
Adventure awaits the bold and daring in the New River Gorge, chosen by the Boy Scouts of America as the permanent home of the National Jamboree. It's not hard to see why people are coming from all over to explore and challenge themselves in these mountains. If you like to cut loose and play hard, there's no end to the heights you can climb to or die from in the New River Gorge. Walk the treetops, fly down a mountain, or glide through the canopy.
Walk across the catwalk of the New River Gorge Bridge, one of the highest bridges in the world. Bridge day, one of the largest extreme sports events in the world is held on the third Saturday each October at the bridge. Hundreds of base jumpers and thousands of spectators attend. Whether your group is passing through and looking for a place to play or rest of you are looking for an exciting destination, the New River Gorge area has everything you could dream of for a getaway truly like no other.